Down at The Farm this past weekend - a 'command performance,' if you'll allow me the license. HBIC needed the feed shed cleaned out, rather seriously, and I'm one of the go-to guys, it seems, for that sort of work. I don't flinch at rats, need little supervision, and am strong enough to make light of the lifting and toting.
The economy reaches into all manner of corners, and hard times mean fewer volunteer hours. The Farm is running on necessary minimums right now, those being the health, safety, and care of the dogs and other animals resident. That means that other things must give, like the cleaning and maintenace of unoccupied structures, like the feed shed. Oh, wait... Did I say "unoccupied?" I meant unoccupied by any animals that people care for. Rats had obviously been there, and had themselves a party. Spiders and grubs were in plentiful evidence, too - Grubs feeding on food spilled by the rats, and the spiders feeding on the grubs. Yes, the rats spilled food - a lot of it. Well, rats thrive on clutter, and that was what I was there to fix!
OMG! Clutter!

Clearly, there was some work to be done.
The HBIC was busy elsewhere (so busy I didn't realize until much later she was even at the farm), and it was a pleasnt day - a break in the recent rains, so I turned to and cleared the shed, tossing away what needed to be tossed, salvaging what I could, and reorganizing as I went. Sadly, a lot of food had been spoilt - hidden behind the clutter, the rats had been at it until the bags were sieves, and food once contained therein was thoroughly spoiled by rat feces and urine. Also hidden were cans of wet food that had become compromised - some had literally exploded, spraying high-velocity food into the damnest places.
Food - and money - literally down a rat-hole...

Unsalvageable - rats urinate and defecate all over what they eat, leaving it dangerous to eat by most any other animal.
One of the resident rescuees - Mickey, perhaps? - was there to supervise in the HBIC's abscence. Such a well-mannered guy! He was constantly nearby, but mostly not directly underfoot. He obeyed so well, and stayed out of the shed, even when clearly perplexed by what I was doing with that mound of spoilt food. He's going to make someone a wonderful companion - I hope he finds a home soon! If I'd so much as an inch of spare space at home, I'd take him in, in a heartbeat! Even knowing my wife would smack me a hard one (and correctly so). He's that good a dog.
Whatcha doing ..?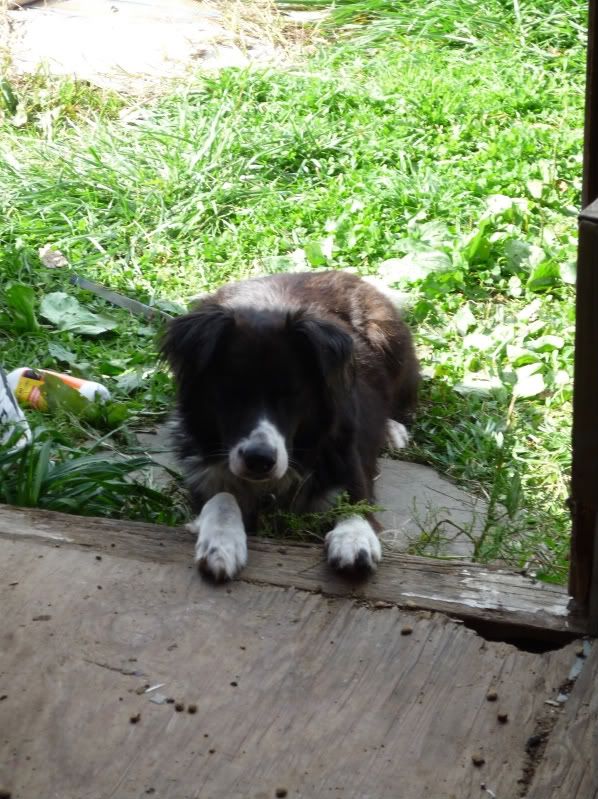 Da man supervises as I get down to some serious organizing.

Anyway, to make short of the tale, things much improved now, with room to move around and places to put everything. What could be slavaged was, and the rest disposed of. I'm not done - more work needed, but there's only so much time in a day. I'll be back to The Farm again soon, to finish up in the feed shed, and do more catching up on those things that have gone by the wayside in these tight times. At least now, all the food can be seen, and reached. There's space, too, for more feed to be brought in, and the rat holes can be blocked - Something more perminant will be needed, but for now the food is safe.
Improvement...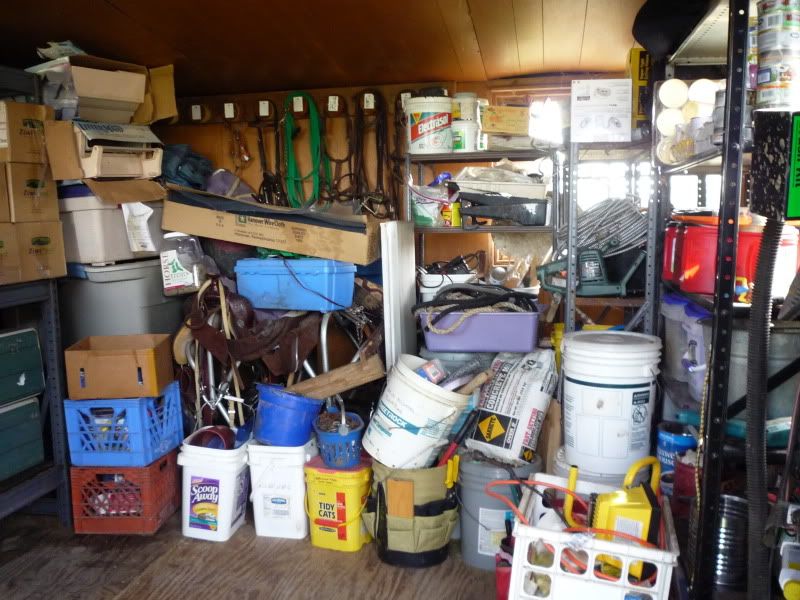 Space to work now - And to actually store food.
Think about your charities and causes. Times are hard, and money is in short supply, but if you can spare a few hours, that may be worth far more than money. Not every task needs a speciallst - sometimes, all that's needed is a willing pair of hands. Look about, and see if there's a place you can put your hands on the cart, and give it a push.